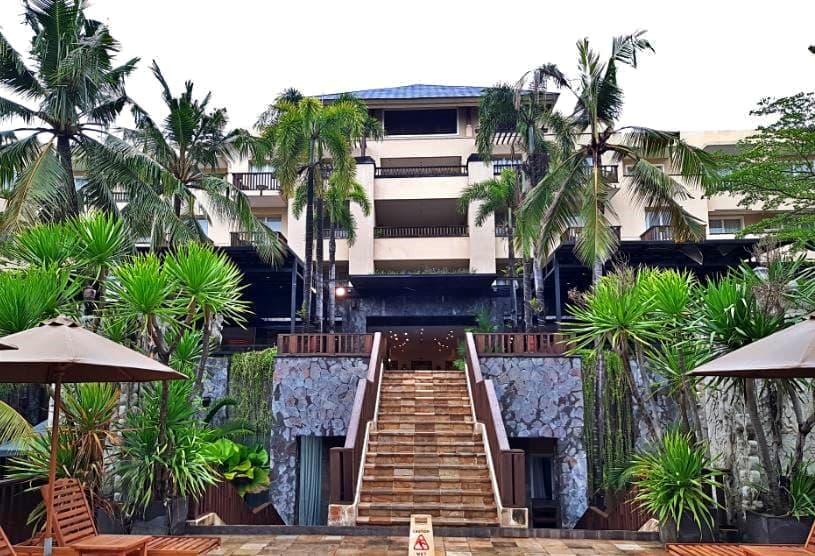 Clicklinkor title to get a voucher.
Hurry before they run out!
Kuta Paradiso Hotel
The Kuta Paradiso Hotel is located in the heart Kuta and is one of the best hotel in Bali. You can also find attractions and other tourist areas nearby. You can enjoy the outdoor swimming pool, as well free Wi-Fi, and a range of dining options. The hotel also offers pet-friendly accommodations.
Location
Kuta Paradiso, an iconic landmark in Bali's Golden Triangle area, is located in the heart of the city. The hotel's impressive glassed-in reception area and elegant suites make it an ideal setting for business trips, holidays, or just a few. The hotel is in a prime location to enjoy the area's many dining options, entertainment venues, nightlife, and booze. The hotel has a full-service gym, an 18-hole golf alley, and a wide range of watersport options including a lap pool with slides and a health club. The hotel is conveniently located near the city's commercial heart, which means that it offers a great selection of dining options. The airport is also just a short drive away.
To make it easier to see the directions to the Kuta Paradiso Hotel, please look at maps.
Free Wi-Fi
Kuta Paradiso Hotel's guests have free Wi-Fi access throughout the hotel. This makes it easy for tourists to stay connected during their holiday. They will not be charged any charges for calls made back to home.
The hotel has a swimming pool, a gym, and shuttle services. There are a variety room types available. Some rooms come with air conditioning or minibars. Some rooms have private balconies that overlook the ocean or offer views of pools. These rooms include free toiletries and cable TV.
The hotel has a number of dining options. B'Couple Seafood Restaurant offers Chinese and seafood cuisines. It also has a live music entertainment program. Kaigara Japanese Restaurant offers contemporary Japanese cuisine.
Outdoor Pool
Located close to Kuta Beach, Kuta Paradiso Hotel is a 5-star hotel that offers a lot of facilities. The hotel offers a swimming pool, a coffee shop on the premises, free shuttle service, and a fitness room. In addition, the hotel also offers spa services and other activities. The hotel also offers shuttle services to the Ngurah Rai International Airport.
The hotel has 254 rooms including suites. Suites have a private balcony overlooking a pool and/or the ocean. Each room comes with a minibar as well as cable programming, wireless Internet, and blackout drapes. The room also has a private bathroom that includes a shower, and bathtub, as well as a separate living space and a hair dryer.
Kaigara Japanese Restaurant offers a variety of dining options. It serves fresh sushi as well as grilled Robatayaki. B'Couple Food Culture Restaurant serves international cuisine, while El Patio Restaurant offers Middle Eastern food.
Dining Options
Kuta Paradiso Hotel has a variety of dining options to suit your needs, whether you're looking for a relaxing vacation or a family vacation. This hotel is close to the popular beaches in Kuta. It is also within walking distance to Waterbom Bali and Kuta Square. Kuta Paradiso Hotel has five restaurants, including Kaigara Japanese Restaurant that serves contemporary Japanese food.
Kuta Paradiso Hotel offers many dining options. It also offers complimentary shuttle services to and from Ngurah Rai International Airport. The hotel also offers 24-hour room service. The hotel also offers free Internet access, a gym, and a health club. It also offers a children's playground, and a child's corner.
Kuta Paradiso Hotel has free valet parking. The hotel also offers laundry services. The hotel's gym is run by highly qualified fitness professionals. This hotel also offers a sauna, and a Jacuzzi.
Pet Policy
Located in Kuta, Bali, Kuta Paradiso Hotel offers free internet, an outdoor pool, and a full-service spa. The hotel also offers a fitness center and laundry services. A complimentary buffet breakfast is available to guests.Airport shuttles are available at no additional charge to guests. The hotel's pet policies may vary and are not included in the final price. However, they may be necessary for hotel security against unruly guests.
The Paradiso Hotel is modern in design and offers six dining options. A fitness center is available with certified fitness professionals.The hotel has free Wi-Fi and offers shuttle service to local areas. It also features a billiards and kids corner.The Paradiso Hotel, located south of Kuta Beach has an outdoor pool that is free-form. The hotel offers an outdoor spa and a complimentary shuttle service to the airport.
Have a voucher too Bali Paragon Resort Hotel with a click here.
About Us
Seindo Travel provides solutions for all your travel needs.
Starting from Hotels, Airline Tickets, Transportation to
travel insurance, everything is in Seindotravel!
Follow Us
Part Of




Transaction Security





© 2023 Seindo Travel. Seluruh hak cipta