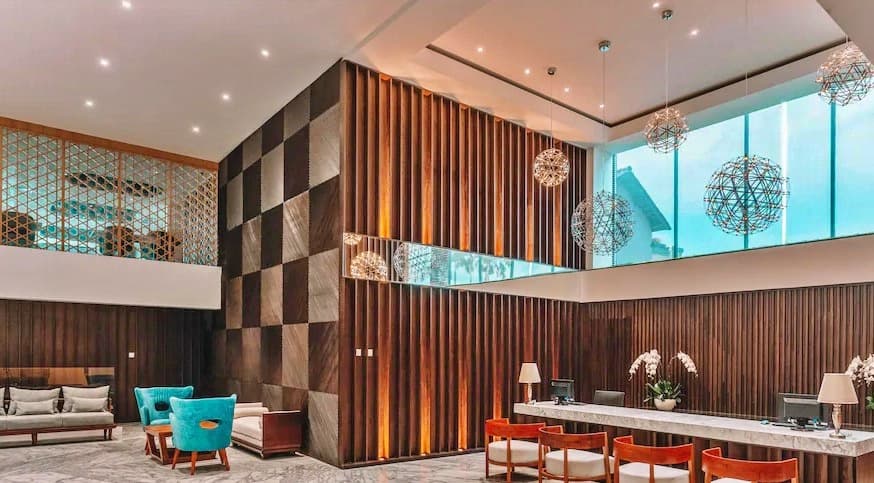 Clicklinkor title to get a voucher.
Hurry before they run out!
The Capital Hotel and Resort Seminyak
Strategically located in Seminyak is THE CAPITAL HOTEL AND RESORT SEMINYAK. This hotel allows you to get up in the heart of the city.
The 4-star hotel has free WiFi and flat screen TVs in its rooms. They also include minibars.
This property is following government guidelines to reduce the transmission of coronavirus (COVID-19) and has taken steps to protect staff and guests.
Free Wi-Fi
The Capital Hotel and Seminyak offer free Wi-Fi, so you can stay connected. You can also get tickets and information from the front desk.
This 4-star hotel is located in the Petitenget district and is 1.2 miles from Double Six Beach. It has a gym and a garden.
The rooms are spacious and come with a flat-screen TV. They include a safe, a fridge, and a bathroom that has a bidet and hair dryer.
Free parking
The CAPITAL RESORT SEMINYAK has free parking so that you can make the most from your time in Bali. The hotel also offers a number of other amenities, including a concierge service and airport transfer.
The hotel's greatest feature is its enormous swimming pool. The property offers many other amenities, such as a spa and fitness center. And to help you beat the heat, the hotel has a few indoor and outdoor hot tubs. The lobby is also impressive. The hotel has a well-equipped business center that is available for guests who need to work during their stay.
Concierge service
The Capital Hotel and Seminyak provides a range of concierge services to help you make the most out your time in Bali. The front desk staff is available to help you with anything from organizing an event to helping you with your luggage.
The hotel offers a variety recreational facilities including a pool and fitness center. The hotel also offers a spa, a business center that is open 24 hours a day and a coffee shop.
All 103 rooms are air-conditioned and offer complimentary wired Internet, cable programming, and minibars. Private bathrooms have toiletries and showers. They also have a hair dryer and safety deposit box.
Transfer to the airport
Seminyak's most popular choice is THE CAPITAL AND RESORT SEMINYAK. It is located in the city's heart and provides a convenient base to explore this vibrant area.
There are also a number of amenities on-site, including a 24-hour front desk as well as free WiFi in public areas. A fitness center, an outdoor pool and a terrace are also available to guests.
Book an airport transfer from Bali's Ngurah Rai International Airport. It is hassle-free and fast. This option is great for travelers who desire a stress-free ride from their accommodation.
Laundry services
The CAPITAL HOTEL RESORT SEMINYAK is located in the heart Seminyak and offers a wide range of amenities that will make your stay memorable. From a snazzy in-house breakfast to an impressively designed swimming pool, this hotel has got you covered when it comes to making the most of your trip.
This hotel's laundry service is a popular one. With a wide range of laundry and dry cleaning services available, guests can keep their clothes pristine at all times. The best thing is that these services come at no cost! The hotel has a swimming pool and a fitness center to keep you busy during your vacation.
Room service
The Capital Hotel and Seminyak have a wide selection of in-room dining options. You can choose from a variety American and Japanese cuisines.
Guests love the convenience and ease of room service available on-demand. It's a great option to make the most of your Kuta stay without spending too much.
The hotel's 103 guest rooms all feature free WiFi and a private bathroom with shower. Some rooms include a balcony, or terrace.
About Us
Seindo Travel provides solutions for all your travel needs.
Starting from Hotels, Airline Tickets, Transportation to
travel insurance, everything is in Seindotravel!
Follow Us
Part Of




Transaction Security





© 2023 Seindo Travel. Seluruh hak cipta