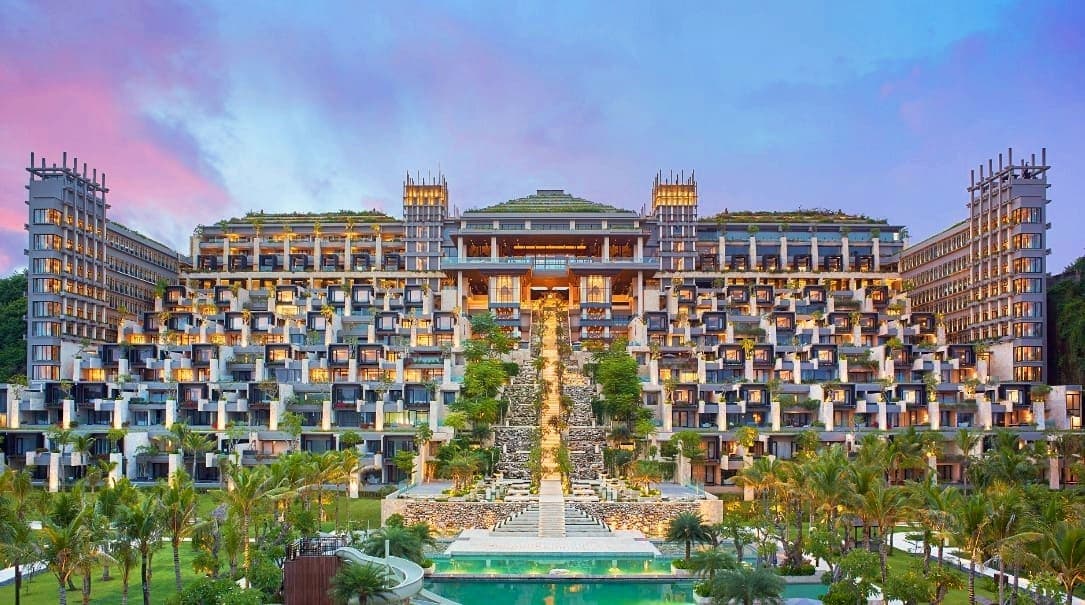 Clicklinkor title to get a voucher.
Hurry before they run out!
The Apurva Kempinski Bali
A trip to Nusa Dua is not complete without a stay at The Apurva Kempinski Bali. This Bali resort is ideal for families, with a 60m swimming pool and a separate children's section. The innovative family club and meeting facilities are also an excellent choice for meetings or conferences. The hotel's cuisine is also excellent. Read on to find out more about this Hotel. In this article, you will learn about its architecture, location and cuisine.
Hotel Architecture
The architecture of Apurva Kempinski Bali is a blend of traditional Balinese culture with modern luxury. Inspired by Balinese villages and their centuries-old subak irrigation system, Apurva Kempinski was built with natural materials namely bamboo, stone and straw. The swimming pool of the Apurva Kempinski Bali hotel is also very sparkling when the sunlight breaks through the water particles. Because the design of the hotel is aimed at creating spaces that are connected to the surrounding environment.
The hotel staff is friendly and painstaking, ensuring that you will get a unique experience while staying here. This property is very beautiful, luxurious and contemporary interiors, and a large lobby with luxurious decoration will really spoil manta. You can come to relax, rejuvenate and create memories with loved ones.
The Apurva Kempinski Bali is a luxury resort located on a cliff overlooking Nusa Dua. The design is inspired by the centuries-old Balinese subak irrigation system and rice fields. It also features natural stone buildings and a sparkling swimming pool. Inside, guests will find luxurious and contemporary interiors, as well as a grand, lavishly decorated lobby.
The location is in Nusa Dua, Facing the Indian Ocean
The Apurva Hotel Kempinski Bali is a 5 star property located in Nusa Dua. Yes, Apurva Kempinski is right facing the stunning Indian Ocean. This hotel is in a tourism area, of course you will find it very easy to find tourist attractions from this hotel, as well as restaurants and shopping centers.
This hotel was designed by world-renowned designers, Budiman Hendropurnomo, and Rudy Dodo, making this a curated design masterpiece only about 20 minutes' drive from Ngurah Rai Airport. This makes The Apurva very easy to access for those of you who come from abroad, outside the region, or are still around Bali.
Exciting Facilities, Activities and Entertainment
Hotel Kempinski Bali is the right choice for the best holiday experience. The accommodation spans 65 square meters, has 43 exclusive class villas, 162 suite-type rooms with 14 of them being clifftop specialist suites, and 256 grand deluxe rooms with European-traditional Balinese fusion decorations and stunning ocean views. You can book an Apurva Hotel room with a king bed or twin beds, it all depends on your needs, and Apurva Kempinski Bali will provide it.
The Apurva Kempinski Bali offers a variety of activities and entertainment options to entertain you during your stay. Apurva Kempinski Nusa Dua has two swimming pools, including an infinity pool overlooking the Indian Ocean, a fitness center and a kids' club. You can also enjoy various water sports, including surfing and snorkelling. For those seeking a cultural experience, The Apurva offers a variety of activities, including traditional Balinese dance performances, cooking classes and an art area.
An Unrivaled Dining Experience
The Apurva Kempinsi Bali has a team of world-class chefs who are tenacious and thorough in preparing local and international dishes with the best quality aces. In the morning, you can enjoy a delicious breakfast with a variety of choices to suit all tastes. The most popular breakfast dishes range from spicy Indonesian fried rice topped with fried egg, eggs benedict, to the classic American breakfast of boiled eggs, ham and hollandaise sauce.
Apurva Kempinski's light and refreshing lunch menu will certainly energize you. The choices range from local ones such as the Balinese chicken salad which features tender chicken breast, vegetables and the signature peanut sauce. There is also a signature burger made with premium Australian beef and served on a brioche bun.
And when dinner time comes, chef Apurva Bali will go to great lengths to create a truly unforgettable dining experience. Some of the evening dishes of The Apurva Bali Kempinski Bali, namely Balinese grilled fish, delicious seafood dishes with a mixture of traditional Balinese spices, to beef tenderloin which is a classic steak topped with roasted garlic, cream and mashed potatoes.
You can enjoy all of this at the hotel's buffet restaurant and coral restaurant, namely the Apurva Kempinski Bali restaurant which offers underwater views. Various snacks or multi-course gourmet feast will complete your holiday at this hotel.
Have a High Quality Spa
Apurva Kempinski Bali is on a cliff with a beautiful view of the Indian Ocean. The spa and luxurious villas make it the perfect place to relax and enjoy traditional Balinese treatments at the spa. You must try the spa and massage at The Apurva Kempinski Bali for a relaxing experience.
The hotel spa Apurva Kempinski Bali has been awarded many awards for its treatment offerings. In the Conde Nast Johansens Awards for Excellence, The Kempinski Bali was named 'Best Hotel Spa' in 2020. Apurva Kempinski is the second Kempinski property in Indonesia. Emerald Palace Kempinski Hotel Dubai as well as Capitol Kempinski Hotel Singapore, opened in June. It is consistently highly rated by local experts and tourists alike.
About Us
Seindo Travel provides solutions for all your travel needs.
Starting from Hotels, Airline Tickets, Transportation to
travel insurance, everything is in Seindotravel!
Follow Us
Part Of




Transaction Security





© 2023 Seindo Travel. Seluruh hak cipta