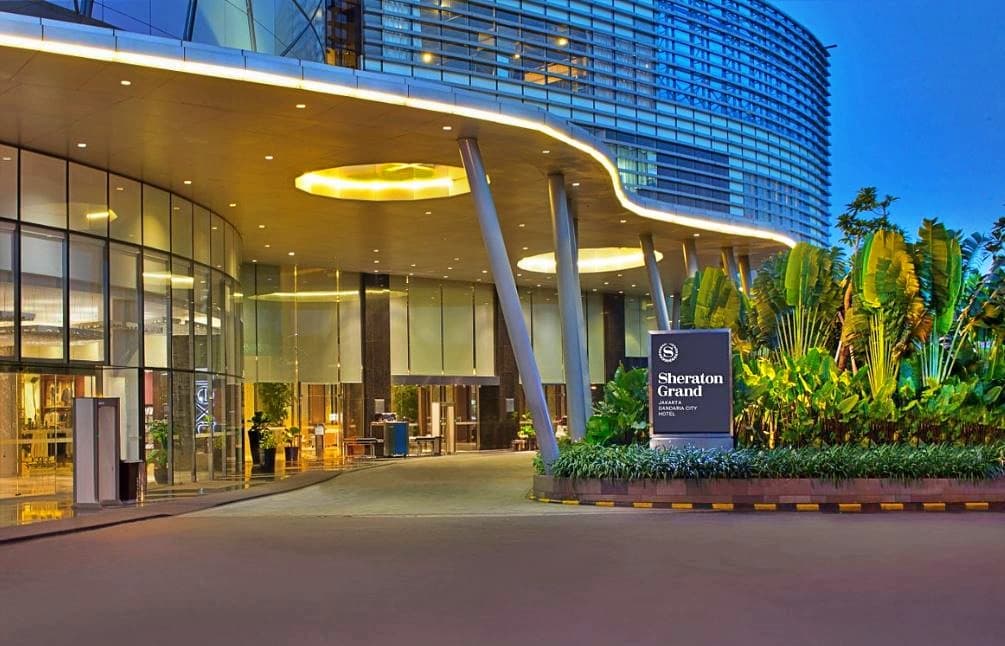 Clicklinkor title to get a voucher.
Hurry before they run out!
Sheraton Grand Jakarta Gandaria City Hotel
Sheraton Grand Jakarta Gandaria City provides a luxurious experience for both business travelers and leisure tourists. With the ability to customize your stay to suit your individual needs, this hotel offers you a unique blend of comfort and convenience. With an extensive range of amenities, you can be sure that you will never run out of things to do.
Exquisite K Seafood Cuisine Experience in 2022
Sheraton Grand Jakarta Gandaria City Hotel hosted the Exquisite K-Seafood Cuisine Experience 20,22 during the month of September. This gastronomic extravaganza was a showcase of the very best in modern Korean cuisine. The dishes featured included both traditional and contemporary cuisines.
To bring you the best of Korea's marine bounty, organizers of this event partnered up with the Korea Agro-Fisheries and Trade Corporation. The event created several distributors and showcased some of Indonesia most popular culinary delights. The gastronomic event featured some of the top chefs in town, including Park Min Cheol (Chef Denny Gunawan). The twosome were joined on the day by other aficionados, who sampled the best of Korea's finest cuisines, such as gochujang salads and jjajangmyeons. They were also treated to a fine array of cocktails, beers, and fine wines, as well as a host of romantic events, from a star-studded reception to a nightly dinner under the stars.
South Jakarta
Sheraton Hotel Grand Jakarta Gandaria City is located in the new South Jakarta. It is a luxury hotel that is centrally located in a commercial complex. The hotel features 263 guest rooms as well as suites. It also offers a variety of amenities. The hotel offers high speed internet access and complimentary breakfast. The hotel's location is convenient, as it is just a few minutes from Gandaria Plaza Mall and Gandaria Tower.
The hotel is conveniently located in the Gandaria Complex, making it ideal for both business travelers and visitors. The hotel is close to many attractions in South Jakarta such as the National Museum of Indonesia, Gandaria City Mall, and Alim Perdana Airport. It's also just a short drive away from the main business area. The Sheraton Grand Jakarta Gadaria City has a variety facilities and services. These include a full-service restaurant as well as an outdoor pool. The hotel has a 24-hour front desk and a shopping mall on-site.
For Business Travelers and Leisure Travelers, There are Discounts!
Sheraton Grand Jakarta Gandaria City, located in the heart of Jakarta, offers tranquility and convenience. The hotel is part of the Superblock Gandaria City complex, which includes a retail shopping mall and several restaurants. It is also near the National Museum of Indonesia Kebayoran Lama Bungur Airport and the Alim Perdana Airport.
The Sheraton offers a swimming pool, high-speed internet access in the lobby, and a parking space. It also has an ultra-modern Sheraton Club lounge, which offers a complimentary breakfast and all-day refreshments. The 3500 square feet of meeting space and function space at the hotel are suitable for all types of events, including small meetings to large weddings. Sheraton Grand Jakarta Gandaria City has a number of other perks. These include allergy-free rooms and local craft beer. The hotel's central location makes it ideal for both business and leisure travelers. It is also close to some of the city's most popular attractions.
About Us
Seindo Travel provides solutions for all your travel needs.
Starting from Hotels, Airline Tickets, Transportation to
travel insurance, everything is in Seindotravel!
Follow Us
Part Of




Transaction Security





© 2023 Seindo Travel. Seluruh hak cipta