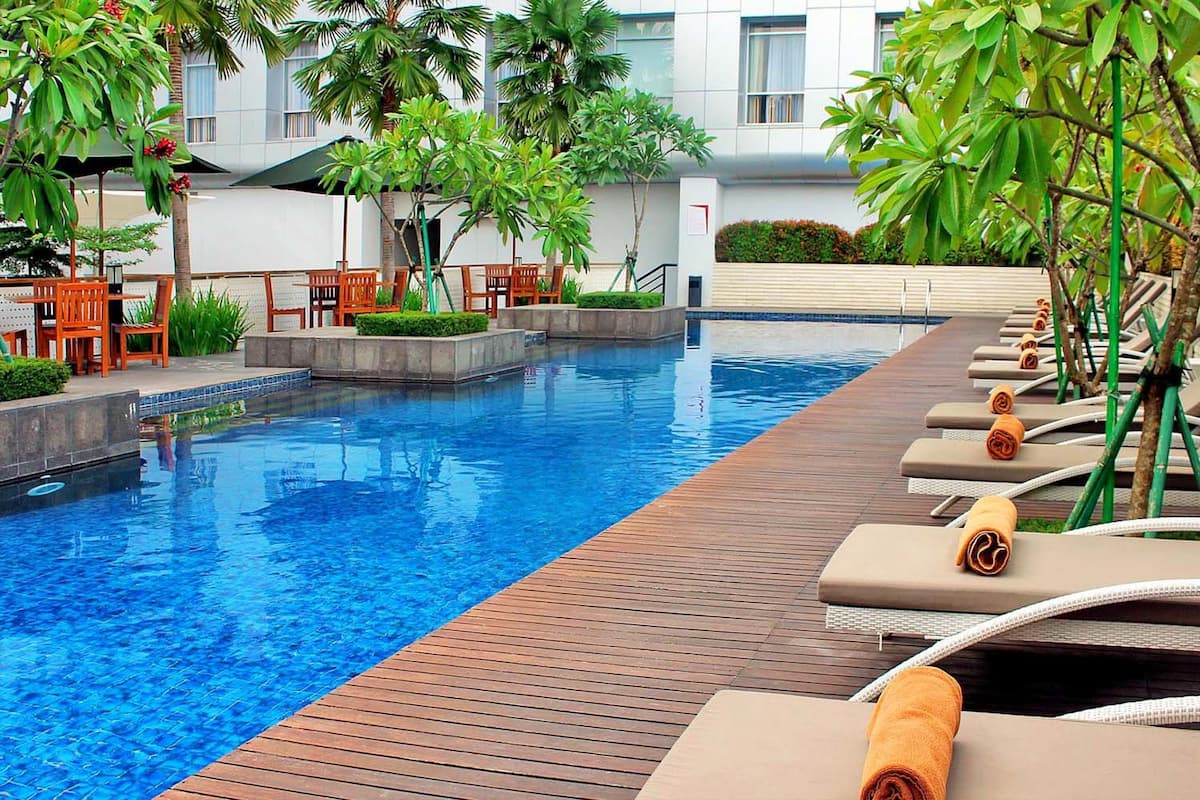 Clicklinkor title to get a voucher.
Hurry before they run out!
In the city of Medan, North Sumatra, there is a hotel that is also a convention centre called the Santika Premiere Dyandra and Convention Center. The view from the height of the hotel room looks towards the central business district of the city. If you enjoy the view during the night, it will be even more breathtaking. From the elevated position of the hotel room, one will have an excellent view of the glittering city lights. Because of its central location, it is not difficult to get there from any direction. The hotel provides a number of different comfort amenities, ranging from rooms that are stocked with all of the essentials to daily life to the provision of delectable meals.
Rooms at Santika Premiere Dyandra Hotel Medan
This chic hotel boasts four stars, the largest convention centre in Medan city, a spa, free parking, and free access to Wi-Fi, and it is located in the heart of the city.
The rooms at the Santika Premiere Dyandra Hotel & Convention - Medan are equipped with air conditioning, a contemporary décor, a personal safe, a tea/coffee maker, and a flat-screen cable television. The private bathroom has a shower and comes stocked with toiletries.
Facilities at Santika Premiere Dyandra Hotel Medan
Guests who visit the spa have the choice of indulging in a relaxing massage or spending some time in the sauna. In addition to that, we also provide laundry and dry cleaning services for your convenience. For an additional cost, reservations can be made for excursions, car rentals, and services that provide transportation to and from the airport for passengers.
Hotel Location
From the Santika Premiere Dyandra Hotel, it will only take you 5 minutes to drive to Paladium Mall, while it will take you 45 minutes to drive to Kuala Namu International Airport. Sun City Mall can be reached by car in just 15 minutes.
In addition, the neighborhood in which this home is situated is widely considered to be among the most desirable in all of Medan. The environment here is one that is friendlier and more enjoyable for guests than it is at hotels in the area that are comparable to this one.
Best Price
This property has also been awarded the title of having the best value in all of Medan! The value that guests receive here cannot be matched by any other accommodation in the city.
About Us
Seindo Travel provides solutions for all your travel needs.
Starting from Hotels, Airline Tickets, Transportation to
travel insurance, everything is in Seindotravel!
Follow Us
Part Of




Transaction Security





© 2023 Seindo Travel. Seluruh hak cipta