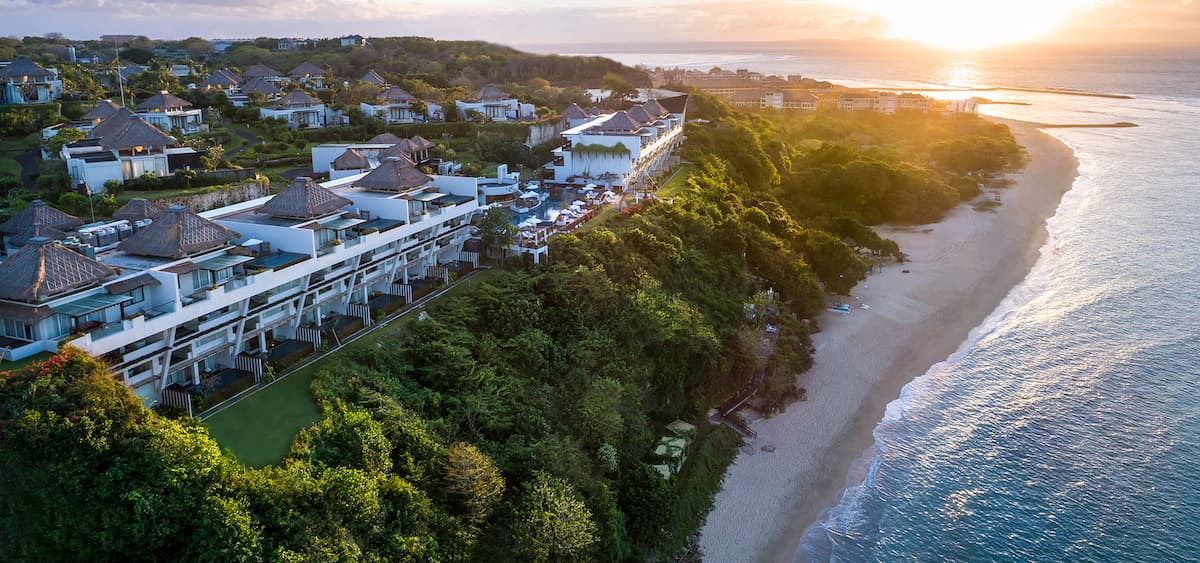 Clicklinkor title to get a voucher.
Hurry before they run out!
Samabe Bali Suites & Villas
This beautiful beachfront hotel is located on 20 acres of tropical gardens, and consists of 81 suites. The interiors feature iridescent fabrics with floral designs and carved wood details. The lobby has delicate wooden accents that are accented with flower arrangements. The lobby also has a wooden swing-style couch that guests can use to take in the expansive views of our grounds.
Private beach
Located on the cliffs in southern Nusa Dua, Samabe Bali Suites & Villa is a five-star luxury beach resort with a private beach. This exclusive resort, which is located on eight hectares of tropical gardens & cliffs, features luxurious suites and penthouse villas. All restaurants offer organic and gourmet cuisine, and there are also daily evening cocktails.
Samabe Bali resort includes a private sandy beach, a health club, and other recreational amenities. The resort offers water sports, massages, a poolside restaurant, and easy access to the beaches. The resort also offers a fitness center as well as a poolside bar.
The Samabe Bali Suites & Villa provides free Wi-Fi access in all rooms. Located in Nusa Dua, this hotel is a short drive from the Sacred Monkey Forest Sanctuary. The hotel also offers a complimentary airport transfer. The hotel's spacious rooms include a minibar and a living area. Suites offer a dining room, flat-screen cable TV, and an electrical kettle.
Samabe Bali Suites & Villa features two-bedroom Pool Villas that offer ocean views. Each villa is equipped with a King-size mattress and a custom-made mattress. The spacious bathroom boasts a free-standing bathtub as well as a walk-in closet. Guests can also order a full-service, a la carte breakfast or dine in-room.
Large LCD screens equipped with DVD players
Samabe Bali Suites & Villa are located on Bali's beautiful island. These villas and suites have stunning views over the Indian Ocean and modern Balinese architecture. You can enjoy a variety of amenities in the villa, including a spa or fitness center. To make your stay as enjoyable as possible, guests can have a 24 hour butler or currency exchange service. You can also enjoy a business center and a tour desk as well as unlimited non-motorised watersports.
The spacious, self-contained rooms at Samabe Bali Suites & villas feature large LCD screens with DVD players. The villas also have iPod docks, WiFi/LAN connections, and signature aroma toiletries. You can also rent cars or bikes to explore the local area. Popular destinations such as Nusa Dua Beach and Uluwatu Temple are also available to guests.
All-inclusive Package at Samabe Bali Suites & Villa includes daily activities, meals, and drinks. The resort also offers free airport transportation for its guests. Guests can also look forward to beautiful ocean views and private pools.
Samabe Bali Suites & Villa a boutique property with 81 suites & villas is located in Nusa Dua. The Samabe resort can be found on a high clifftop. This is the perfect place for enjoying the beachfront lifestyle. You can also count on a round-the clock butler to assist you.
Large LCD screens and docks for iPhones
The Samabe Bali Suites & Villa hotel is a modern and stylish one located in Nusa Dua. The property spans eight hectares and features 81 villas and suites. Two restaurants and an open-air bar are part of the hotel. The rooms feature stylish interiors and ocean views. The hotel offers free Wi Fi in all rooms as well as a fitness room.
Samabe Bali Suites & Villa offers luxurious suites with spectacular Indian Ocean views. You can choose from separate living areas or a studio, and you'll have your own plunge pool. Apart from private plunge pools, villas or suites also have large balconies and large outdoor dining areas.
Samabe Bali Suites & Villas offer comfortable rooms with blackout curtains, AC, and a separate living area. Some rooms have cable TV. You will also find a hair dryer and a minibar in your room. Some rooms have bathrobes.
Samabe Bali Suites & Villa's Two-Bedroom Penthouse Pool Villas offer spectacular views of the Indian Ocean and include an indoor-outdoor lounge area. These suites feature king-sized beds, private terraces, and a telescope. The decor is modern and clean with Balinese accents, smooth dark wooden and love seats in poppy red. The furnishings are decorated with handcrafted textiles by local artisans.
Butler service available 24 hours a week
Samabe Bali Suites & Villa offers luxury all-inclusive experiences, such as its Unlimited Privileges, including a 24-hour butler service, premium meals, and beverages. You can also enjoy a variety other luxury services such as a spa and meeting facilities. The resort also offers a telescope in the suites. Its renowned spa retreat programs offer organic cuisine and top-quality beverages.
Samabe Bali Suites & Villa offers elegant accommodation in an idyllic location in Nusa Dua, Bali. The suites and villas boast stunning views over the Indian Ocean. The villas can be used for relaxation or work and offer large living spaces, flat-screen TVs with cable, and free wireless Internet access.
Samabe Bali Suites & Villa make a wonderful romantic getaway. The resort's exclusive Ring of Fire wedding location overlooks the turquoise blue waters of Indian Ocean is ideal for weddings. A Director of Romance and dedicated staff are available to assist you in every aspect of your wedding.
Samabe Bali Suites & Villa offers free Wi-Fi in all rooms and suites. The hotel can also arrange airport transportation, including shuttle service and car hire. There is also a table for ping-pong. A karaoke lounge is available to guests. There's also a poolside restaurant for those nights when cooking is not an option.
Day-care
Samabe Bali, a stunning property located on the cliffs over Nusa Dua has a traditional Balinese interior and modern contemporary elements. Samabe features 81 luxury villas and suites in a serene setting with lush gardens. The resort offers full-service day-care for children, a private sandy beach, and all-inclusive prices.
Samabe Bali Suites & Villa's Lumba-Lumba Kids Club is open from 9am to 5pm for kids ages two to ten. It provides educational books and fun activities for kids. There is also a movie theater on-site.
Samabe Balinese Suites & Villa offers many activities, including private sailing charters for children and fee-for-service scuba dives. There are also yoga classes, local arts and crafts markets, and Balinese dance performances.
Samabe Bali Suites & Villa features free WiFi throughout the resort. It also offers shuttle service and car hire services to the airport. The hotel offers free parking as well as free Wi-Fi within the suites.
Samabe Bali Suites & Villa has a 24-hour butler who is available to assist guests with any of their needs. The hotel's swimming pool is also available to guests. The pool is open to guests, but it is subject to availability. The resort is located in Nusa Dua's southern part.
Guests can choose between single bedrooms and family suites. Extra beds and baby cots are available. The staff is professional, friendly, and helpful. There are many options for families to choose from. The resort offers a buffet, lunch, poolside snacks, afternoon tea, and a breakfast buffet. The restaurant's kids' menu offers plenty of options for young ones, including coloured pencils and a snack bar.
About Us
Seindo Travel provides solutions for all your travel needs.
Starting from Hotels, Airline Tickets, Transportation to
travel insurance, everything is in Seindotravel!
Follow Us
Part Of




Transaction Security





© 2023 Seindo Travel. Seluruh hak cipta