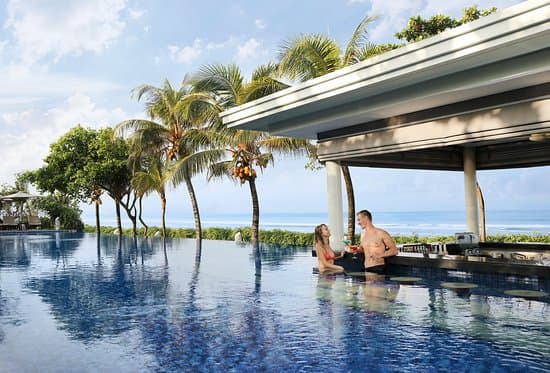 Clicklinkor title to get a voucher.
Hurry before they run out!
Padma Resort Legian - The Perfect Getaway For Families
The Padma Resort Legian features three outdoor pools as well as an outdoor tennis court. It also boasts a waterslide, as well as a full service spa. The resort offers 5 restaurants as well as free WiFi access in public areas. The hotel is smoke-free. It also offers babysitting services.
Location
This resort is located in Legian and is close to the Sacred Monkey Forest Sanctuary, Kuta Beach, and Kuta Beach. The resort offers free Wi-Fi access in all rooms as well as free parking. The Padma Resort Legian is five-star rated and has a hot tub as well as an in-house restaurant. The ideal spot for family vacations to the heart of Bali.
Guests are welcome to use the onsite facilities of the Padma Resort Legian, including a rooftop terrace, fitness centre, and outdoor tennis courts. The in-house Mandara spa offers massage and beauty therapy services. Parking and car rental are also available. In-house bars are a great option for hosting business meetings and social gatherings.
For an additional charge of USD 35, the Padma Resort Legian allows you to park free of charge and provides a shuttle service from the airport. The hotel has a 24-hour Front Desk with multilingual staff. There is also free WiFi in public areas. Daily housekeeping service is provided. The resort does NOT allow smoking in the rooms. Guests can take a relaxing bath or get pampered in the hot spa. There is also a sauna and gym.
There are many pools at the Padma Resort Legian. Its main pool is perfect for families, as it is shallow and near the beach. Additionally, it has a lagoon pool, an Olympic-sized swimming pool, and an ocean-view infinity pool. Its spa offers traditional Asian treatments and salon services.
Activities
Padma Resort Legian has a variety of activities that families can enjoy during their stay. Legian Beach is a 5-minute drive away. The hotel has an outdoor swimming area, rooftop terrace, tennis courts, and a roof terrace. It also boasts a spa and a beauty centre. The rooms are modern and come with modern amenities.
The resort is large, making it ideal for families. It is conveniently located near Legian Beach as well as many shops and restaurants. A rickshaw will pick you up from your room, and you can explore Legian town by foot, which is about 1.5 miles south. You can also visit Seminyak Square and Kuta Beach within a short drive.
For swimming enthusiasts, Padma Resort Legian has five pools. A family pool is ideal for families with children. It also features several waterslides as well as artificial rocks, making this a great place for children with small hands. The main pool can be used by adults and the smaller, shallower pool is suitable for toddlers.
Facilities
The Padma Resort Legian lies in the southern part Legian, one the most touristic areas of Bali. It can be reached by taxi or chartered vehicle. The resort offers a wide variety of facilities, making it a popular choice for families. It is convenient to Seminyak, Kuta and other tourist destinations. It is the ideal getaway for those who wish to experience the tranquility and peace of Bali.
Padma Resort Legian offers free WiFi access throughout the hotel. However, parking is not available at the hotel. It also offers flexible cancellation policies. Additional beds may be available at an additional charge. These are not guaranteed and subject to availability. This fee is not added to the total cost.
The Padma Resort Legian offers several swimming pools. The main pool has a shallow area for children. It also includes a lagoon, family, and infinity pools. The resort also has a spa and salon. The spa offers traditional Asian therapies.
Babysitting services
The Padma Resort Legian is a CHSE-certified hotel that offers a range of child care services. It has a fully-equipped spa and five restaurants. The resort also offers a kids pool, a gym, and a kids club. A daily housekeeping service is also available. Each morning, the resort offers a complimentary breakfast.
Parents and babies have the option to use the resort's Kid's Club. They can enjoy arts and crafts and outdoor activities. There is also a Saturday night party club. You can also hire a nanny to look after your children while you eat at the hotel. The resort features an Olympic-sized swimming pool and an infinity pool with lagoon-style design.
This Bali hotel is close to the beach and offers free Wi Fi in all rooms. There is also a restaurant on site with a kids menu and a kids' club. The spa offers a sauna and a beauty center. Parking is available on-site at Padma Resort Legian.
Infinity pool
The Padma Resort Legian boasts a stunning infinity pool with a view of the ocean. The pool is accessible all day and guests can enjoy the stunning views while sipping cool drinks from the pool bar. The hotel offers a full-service spa and five restaurants. It also offers 24-hour room service.
This resort in Legian is ideal for families. There are several pools and a children's area. For children, there are many water slides and rock climbing walls. The hotel offers a luxurious spa, a sauna, as well as a fitness centre. All areas have free WiFi and rooms offer views to the tropical gardens. Each room has a flat-screen TV with a DVD player.
The Padma Resort Legian is also known for its kids' club. There are many activities available for children, including arts and crafts. Kids Club has a Saturday night party where they can attend. There are two pools to choose from: one lagoon-style pool, one Olympic-sized pool, and one with a view of the ocean.
Balinese charm
Padma Resort Legian, located on Legian's shore, offers luxurious, modern accommodation. It is surrounded lush tropical gardens. The resort offers many dining options, including a swimming pool bar and free WiFi. The Spa offers relaxing massages to guests. The hotel offers free access to a departure lounge and a fitness centre.
The Padma Resort Legian offers a family-friendly getaway. Children under 12 years old can stay in a Premier Twin room for free. Family Deluxe rooms include complimentary breakfast, and children are welcome in Family Deluxe rooms. Parents can relax on the beach, or enjoy sunset drinks at S.K.A.I Beach Club.
Five swimming pools are family-friendly. A separate family pool is ideal for small children, featuring a water slide and climbing rock. Families can take advantage of the hotel's many activities and facilities, including a sauna and gym.
This luxury resort is a 5-minute walk from Legian Beach. It also has free WiFi and selfservice laundry. The rooms feature modern Balinese decor with air conditioning and flat-screen TVs. Guests can access a 24-hour front desk for assistance. Parking is available in the vicinity. It is also possible to hire a car.
Safety measures
Safety is a top priority at the Padma Resort Legian. The resort offers many features to ensure a worry-free stay. The resort offers free Wi-Fi in all rooms and airport transfer services. It also offers car rental. Moreover, it provides recreational facilities and a massage service.
The Padma Resort Legian provides air-conditioned guestrooms featuring a balcony and cable TV. Each room includes a DVD-player, bottled water, as well as an in-room safe. Other amenities include free WiFi access in public areas and hair dryers.
The Padma Resort Legian, located just five minute drive from Legian Beach. The resort also features an outdoor pool and a gym. The hotel's Balinese-style rooms are well-equipped with flat-screen TVs, DVD players, and tea and coffee makers. Some rooms include dining areas. Mandara Spa is a great place to unwind and get a massage. The resort also offers tennis, as well as a wide range of other activities.
Guests can easily get to and from the hotel through the airport. Some packages include airport transfers. Private drivers should not be trusted. You can also use the ATM in the hotel's lobby to exchange foreign currency.
About Us
Seindo Travel provides solutions for all your travel needs.
Starting from Hotels, Airline Tickets, Transportation to
travel insurance, everything is in Seindotravel!
Follow Us
Part Of




Transaction Security





© 2023 Seindo Travel. Seluruh hak cipta