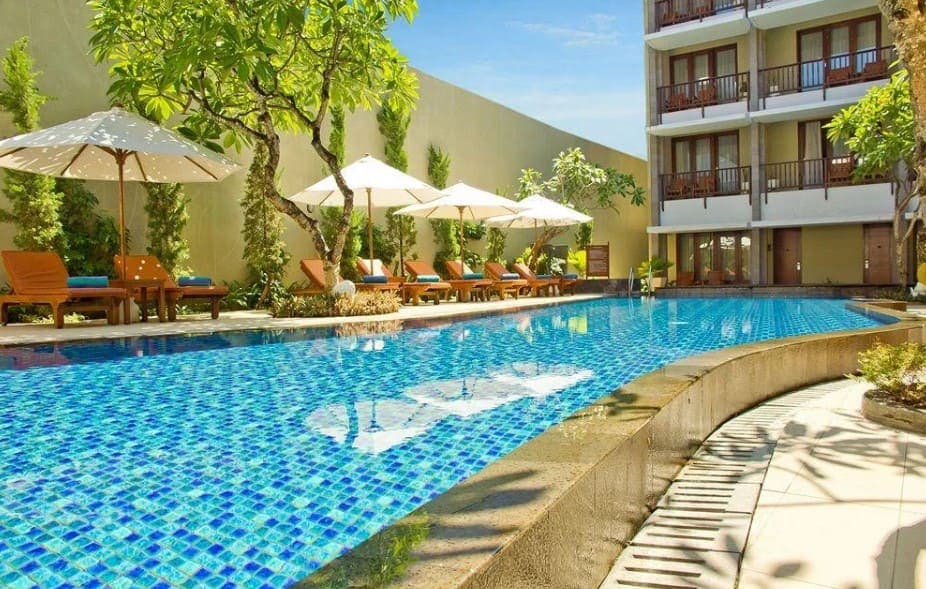 Clicklinkor title to get a voucher.
Hurry before they run out!
Bali Rani Hotel in South Kuta
The hotel is located in a quiet village of South Kuta, Bali Rani Hotel is a short drive from Ngurah Rai Airport and Kuta Beach. It is a sprawling garden and a tour desk.
The hotel's 104 rooms blend modern luxury with Balinese hospitality. Each room is equipped with an ensuite bathroom, and a spacious living space , and a balcony or terrace. There is minibars, cable TV and tea/coffee-making facilities in your room.
Rooms
Among the 104 guestrooms at Bali Rani Hotel, you'll have some with balconies or terraces overlooking the pool. The rooms are all equipped with minibars and free (sometimes slow) Wi-Fi.
Suites are the most suitable option for families, as they have a separate living space and an en-suite pantry. There are two bathrooms as well.
Each room has an individual control of air conditioning, a cable TV, an IDD telephone, and an in-room mini bar. There is also an in-room safe.
The Bali Rani Hotel is located near Waterbom Park, Kuta Beach and has free WiFi in all rooms. It is a 10-minute drive away from Ngurah Rai Airport, and a 20 minute drive from Denpasar.
Restaurant
Bali Rani Hotel has several restaurants offering a wide variety of dishes. The following is a review of one of the restaurants at Bali Rani Hotel called The Wantilan Restaurant.
The Wantilan Restaurant is the main restaurant at Bali Rani Hotel offering Indonesian and international dishes. This restaurant has a relaxed and comfortable atmosphere with thick traditional Balinese decorations. There is a choice of tables indoors or outdoors with views of the green gardens and the hotel's swimming pool.
The dishes served at The Wantilan Restaurant are quite varied and delicious. Indonesian menus such as fried rice, satay and gado-gado are choices that are liked by many guests. While international menus such as pasta, steak and pizza are also available with authentic tastes.
Spa
Bali Rani Hotel's Spa offers different treatments that will let you relax and unwind. From facials to massages the team at the spa is waiting to provide you with a treatment that will suit your needs.
This Balinese retreat is located in lush tropical gardens and is a tranquil escape. The peaceful atmosphere is enhanced by a koi pond and the lily pads. A traditional Balinese house, called the bale meten (red-roofed Balinese house), is situated in the middle.
Activities
Some of the activities that can be done at Bali Rani Hotel and its surroundings are swimming in the hotel swimming pool, exercising at the fitness center, relaxing in the garden or terrace, enjoying culinary delights at the hotel restaurant, shopping in the surrounding area, visiting Kuta beach, and visiting tourist attractions around Bali.
Make sure to check the current health protocols and follow the rules that apply while staying at Bali Rani Hotel and while exploring Bali.

About Us
Seindo Travel provides solutions for all your travel needs.
Starting from Hotels, Airline Tickets, Transportation to
travel insurance, everything is in Seindotravel!
Follow Us
Part Of




Transaction Security





© 2023 Seindo Travel. Seluruh hak cipta