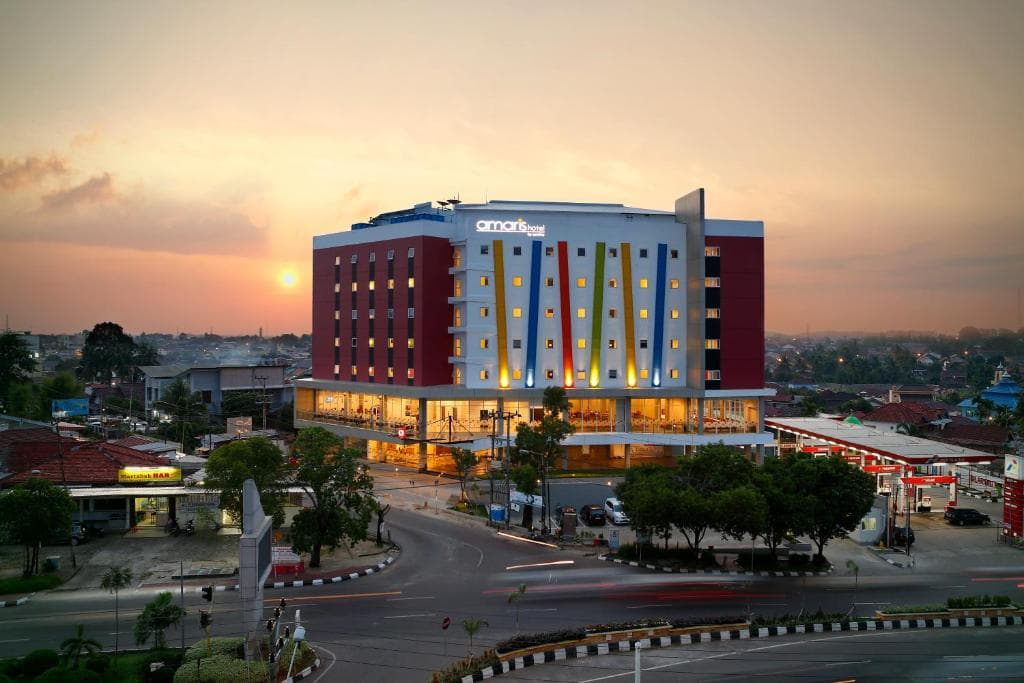 Clicklinkor title to get a voucher.
Hurry before they run out!
Amaris Hotel Palembang, Indonesia offers stylish accommodation with enhanced cleaning and safety measures. There are also a variety of dining and entertainment options. This hotel is a great option for a stay in Palembang's Ilir Barat neighborhood. You can visit the city's most popular sites or relax in the hotel's bar.
Amaris Hotel Palembang offers stylish accommodation
Amaris Palembang is a stylish and comfortable hotel. The hotel offers free Wi-Fi, air conditioning, and cable TV. It also provides bottled water and toiletries. It is located 10 km from the city center. The hotel is easily accessible from the city centre.
The Amaris Hotel Palembang, located in the city's business area, is a great choice. The hotel offers free Wi-Fi and a restaurant on the premises. The hotel is located near the Palembang Trade Center, making it convenient for those on business. It is also within walking distance to the Ampera Bridge. The bridge can be reached in about 20 minutes. It is also within 15 minutes of the Sultan Mahmud Badaruddin (2) International Airport. The hotel boasts 180 air-conditioned rooms equipped with LED televisions. All rooms are equipped with free Wi-Fi, complimentary toiletries, and a safety lock box.
It has enhanced safety and cleaning.
To reduce the risk of spreading infectious diseases, the property has implemented safety and cleaning improvements. The rooms are cleaned after each stay and disinfected. It also uses social distancing methods to create a barrier between guests and staff. You are welcome to use hand soaps.
All rooms at the hotel have air conditioning and free Wi-Fi. Amaris Hotel Palembang's location is in the Ilir Barat neighbourhood, which offers many dining options as well as interesting sites. The hotel also has a restaurant, which is open all day.
It offers a variety dining options
The Amaris Hotel Palembang features modern, stylish rooms and free Wi-Fi. It is located close to many attractions, restaurants, and shops in Palembang. The hotel has a restaurant on site and offers a daily breakfast. The hotel also offers free parking and a ballroom.
The hotel has several meeting spaces with high-tech equipment if you are traveling for business purposes. Each venue features a standard sound system, wireless microphones, whiteboards, markers, and notepads. You can also find medium-sized meeting rooms. They are equipped with whiteboards and are suitable for small to moderate-sized groups.
Amaris Hotel Palembang features a 24-hour front-desk service and free parking. All rooms have air conditioning and flat-screen satellite TV. Safety deposit boxes are also available. Many rooms have a city view and en suite bathrooms. Daily housekeeping services are provided. The hotel does not allow smoking in any public areas.
The Arista Hotels is located approximately 20 minutes from Palembang's center. It also offers ironing and laundry service. The Arista Hotel Palembang also offers Wi-Fi throughout its public areas. The Arista Palembang boasts 142 rooms. It's close to Palembang Square Mall Mall, Palembang Indah Mall.
It offers a variety of activities
Amaris Palembang offers guests a variety of activities during their stay. Every morning, guests can enjoy a complimentary continental breakfast as well as a wide range of dining options. The hotel also provides free parking and a concierge service. Additional amenities include a safety deposit box and free internet access. The hotel also has a TV area and a shared lounge. Smoking is permitted in designated areas.
The Amaris Hotel Palambang offers stylish accommodation in the city's business area. All rooms have free Wi-Fi. It is a 5-minute drive from the Palembang Trade Center Shopping Center and a 20-minute drive from the Ampera Bridge. It takes about 15 minutes to reach the Sultan Mahmud Badaruddin International Airport by car. The rooms at Amaris Hotel Palembang come with complimentary newspapers in their lobby. Each room comes with a private bathroom and a shower.
Amaris Hotel Palembang offers a variety of meeting rooms that can be used for hosting meetings. They have wireless microphones and a standard sound system. The venue has a whiteboard and markers as well as notepads. The hotel offers free Wi-Fi throughout the hotel and a parking lot. It has medium-sized meeting rooms with enough space to accommodate small to medium-sized groups.
About Us
Seindo Travel provides solutions for all your travel needs.
Starting from Hotels, Airline Tickets, Transportation to
travel insurance, everything is in Seindotravel!
Follow Us
Part Of




Transaction Security





© 2023 Seindo Travel. Seluruh hak cipta