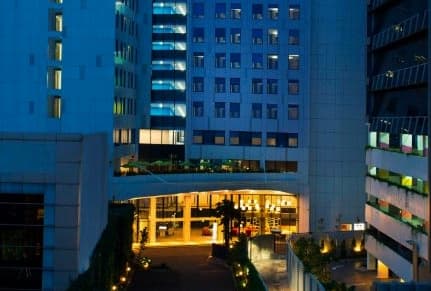 Clicklinkor title to get a voucher.
Hurry before they run out!
Aloft Jakarta Wahid Hasyim
The Aloft Jakarta Wahid Hasyim is a modern and elegant hotel located in the heart of Jakarta. This hotel offers stylish, intuitive amenities, a swimming pool, and comfortable bed. This hotel has everything you need for a relaxing stay, regardless of whether you are traveling for business or pleasure.
Amenities
Aloft Jakarta Wahid Hasyim offers a variety of amenities in each guest's room. The hotel offers in-room dining and a coffee shop. The hotel also features a fitness center and a poolside restaurant. It also has halal food options.
The hotel is centrally located in Sabang close to Sarinah Plaza. You can also enjoy free internet access, instant coffee, and daily housekeeping. Other facilities include an indoor pool with billiards and a green garden.
Location
This modern hotel offers guests a comfortable and central stay in Jakarta. You can also enjoy high-speed Wi Fi and USB outlets in your room. They can also book a taxi or a rental car. There are many activities and meals available for guests.
The Aloft Jakarta Wahid Hasyim, located in the Central Jakarta region near many popular attractions, including the Immanuel Catholic Church. Its central location makes it easy for you to make a quick trip into the city's center. The Sarinah bus stop and Djakarta Theater are both within walking distance of the hotel.
Read Also :
Price
The Aloft Jakarta Wahid Hasyim provides stylish, contemporary rooms with modern amenities. Guests can access free high-speed Wi-Fi and USB ports and enjoy in-room dining and a poolside bar. The hotel also offers halal dining. In addition, the hotel has a fitness center and in-room BBQ facilities.
Aloft Jakarta Wahid Hasyim 4-star property is located near Jalan Jaksa street and the Istiqlal Grand Mosque. Both are approximately 1.7 miles away. It is also a ten-minute walk away from Bundaran HI's metro station. The hotel has a 24-hour front desk and car rentals, and has free WiFi throughout the property.
Non-smoking Policy
At the Aloft Jakarta Wahid Hasyim hotel there is a nonsmoking establishment. The hotel has designated smoking areas, but smoking is not allowed inside. The hotel offers air-conditioned rooms with cable TV and refrigerators. The hotel also offers car rentals and a 24-hour reception. About 11km away is Halim Perdanakusuma's International Airport.
The hotel features high-tech amenities including USB outlets, free Wi-Fi high speed and comfortable beds. The hotel offers a gym and a poolside restaurant. In-house, the hotel has a cafe that serves halal food and beverages.
Meeting Space
Aloft Jakarta WAhid Hasyim Boutique Hotel is located in central Jakarta. Located just a four-minute drive from Bundaran Hi, this hotel is close to a variety of major attractions including the Grand Indonesia and Thamrin. In certain rooms, you can also enjoy the air-conditioning or cable TV. Guests will also find refrigerators and bottled water. Instant coffee is also available in some rooms.
This modern hotel is conveniently located near Soekarno-Hatta International Airport. The hotel offers 1,507 square feet of meeting space, including eight conference rooms. Aloft Jakarta Wahid Hasyim provides great options for team building and corporate events.
About Us
Seindo Travel provides solutions for all your travel needs.
Starting from Hotels, Airline Tickets, Transportation to
travel insurance, everything is in Seindotravel!
Follow Us
Part Of




Transaction Security





© 2023 Seindo Travel. Seluruh hak cipta