Coral Beach of Sanur Bali – Many people want to go to the coral beach of Sanur Bali. Which is said to have the beauty of a very beautiful beach.Covered in soft white sand and coupled with a stunning natural panorama.

Reality is like that.

But there are other factors that make people choose this destination as a destination while on vacation in Bali.

So that you don't hesitate to take a vacation to the coral beach of Sanur Bali, here are questions that are often asked.

And the answers are used as reasons to strengthen holidays on the coral beach of Sanur Bali.
1. What's the attraction?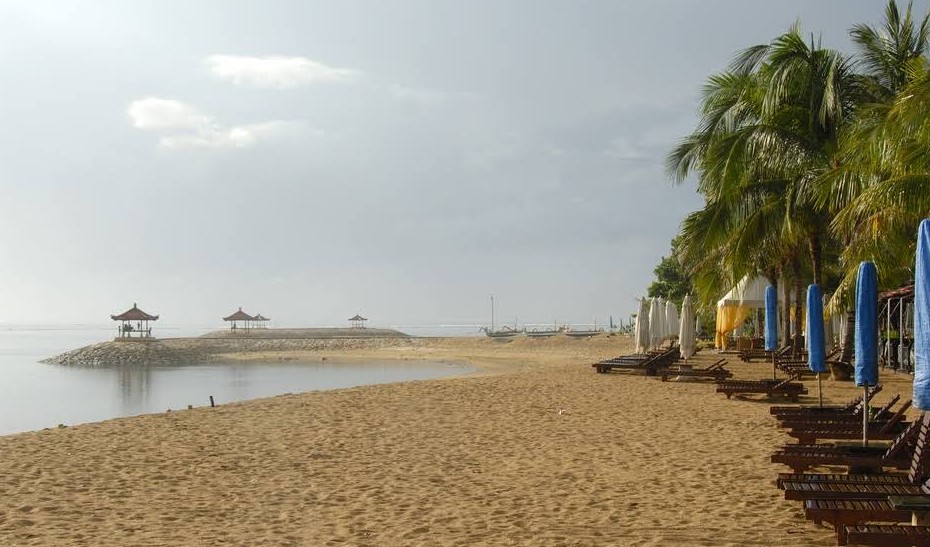 Sanur Bali's coral beach is famous for the cleanliness of its coastal location.
That's the main attraction for every tourist location that makes visitors feel at home. So that tourists always want to visit Sanur beach while on vacation to Bali.
The next attraction is to see the sunrise.
There is no doubt about the beauty that is emitted when the sun comes out of hiding.
The resulting panorama is truly beautiful and makes those who see it amazed.
2. What activities can be done there?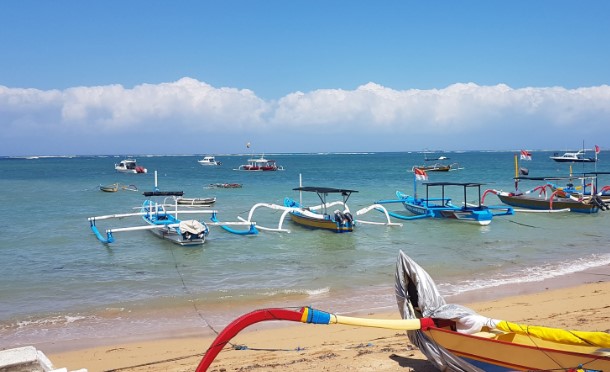 The beach with a very wide stretch of approximately 8 kilometers, of course there are many things that can be done.
Plus there is a path by the sea for those of you who like to walk or use a bicycle to get around the shoreline of Sanur.
For those of you who bring children, you can also swim and play in the water on the beach. Because the waves on this beach are calm and shallow, so it is safe for children who want to play in sea water.
Not only that, for sure!
There are many other activities you can do such as sunbathing, snorkeling, playing banana boats, jet skiing, and seawalkers.
The newest thing you should try is canoeing.
Exclaim that there are many things you can do while enjoying the beautiful beach scenery, of course.
3. What are the facilities there?
Of course, this well-known and crowded beach has very adequate facilities.
The management is very enthusiastic about the best service by providing various facilities that make visitors feel safe, calm and enjoy the holidays.
Here are the facilities in outline:
Parking area
Bathroom / toilet
Lodging
Places to eat/restaurants
A shop that sells knick-knacks
and many more that support your holiday to be happy.
4. Are there any hotels close to the beach?
Indeed, there are many hotels near Sanur beach in Bali that offer complete room facilities.
But here we will recommend hotels close to the beach and at a very economical price.
What you can make a choice while on vacation to Sanur Bali.
Griya 18 Residence, which starts at IDR 117,000.
Unfortunately Residence 2 is priced starting at IDR 191 thousand.
Tangtu Beach Inn Villa, which starts at IDR 224 thousand.
Mars City Hotel, which starts at IDR 227 thousand.
Diwangkara Beach Hotel & Resort, which starts at IDR 500 thousand.
Peneeda View Beach Hotel, priced from IDR 665 thousand.
and others
5. Where is the location of Sanur Bali beach?
For those of you who have never been to Sanur Bali's coral beach, this information is very important. So you don't get lost.
For those of you departing from Ngurah Rai airport, the distance that must be taken is around 17 kilometers via the toll road.
If you are on vacation from the Uluwatu temple in Bali, and continue your vacation on the Sanur beach in Bali, the distance you have to travel is around 35 kilometers.
If you need directions to get there, you can click on the Sanur beach location in Bali .
The location of Sanur Bali beach is precisely on Jalan Kusuma Sari No.1 Sanur, South Denpasar Bali.
The names of the beaches that stretch for 8 kilometers from the north end to the south include: Merta Sari, Semawang, Batu Jimbar, Karang, Segaraya Ayu, Sindhu, and the best known is Sanur Sunrise Beach.
6. How much is the entrance ticket?
If you want to visit Sanur beach in Bali, there is no ticket to enter this location. But you just have to pay for parking the vehicle.
For cars, a fee of Rp. 5000.- and motorbikes Rp. 2000.-.
We suggest that if you want to visit this beach, you must come before sunrise. Because the moment that many have been waiting for is early in the morning.
Those are the 6 reasons that make local and foreign tourists vacation on the coral beach of Sanur, Bali.
Note: Price / nominal can change at any time without notification.
How about you, are you ready to go on vacation?